High capacity conveying for barns and semi-solid manure pits.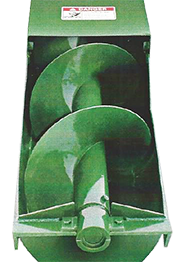 Components That Last
16" auger with heavy 5/16" flighting
Bronze bushings on top, nylon bushing on bottom of auger
1/8" Copper bearing steel construction.
4" diameter, schedule 80, heavy wall tube in auger. Copper/steel alloy for housing.
Optional steel liner for sand use.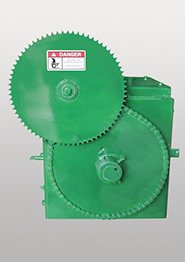 Electric Motor Drive Models
Strong roller chain drive 60 H on auger , 50 H on reducers.
Circuit breaker used for overload instead of sheer bolt.
Electric motor drive output ranges from 3 hp to 15 hp, depending on auger length.
PTO Drive Models
Tractor horsepower requirements: Minimum 45 HP @ 540 RPM.
Description
Larger diameter auger results in slower RPMs to maximum torque and reduce component wear.
Custom built for your specific application with 15-40 foot lengths.
Available with electric or PTO drive.
Thrust bearing located on top end for easy lubrication.
Install in existing structures, or new construction.